Food Preservation and Safety Tips In Case of Disaster
Submitted by Family Focus on Sat, 10/06/2012
Food storage is very important in the event of a disaster, so it is essential to ensure you keep your refrigerator and freezer closed if the power goes out. Perishables in the fridge can last up to four hours, and a full freezer can stay cold enough to keep foods safe for up to 48 hours without electricity.
If you have access to stores, you should also buy blocks of dry ice to help maintain the temperature as much as possible to keep foods secure. Having a supply of ready-made ice cubes or frozen bottles of water are also useful in keeping food cold. Frozen bottles of water can also be used in coolers to help store foods if there is a concern about keeping them in an unpowered refrigerator. You may also place the foods close together while the power is out to help them retain much of their cold temperature. All store bought foods should be placed in waterproof containers or on shelves in a pantry, in the event of a disaster, such as a flood.
If you are dealing with flood conditions, any food that has possibly touched flood water should be discarded immediately, as it is no longer safe. Fruits and vegetables should be cleaned as fully as possible with safe water. You should also have an ample supply of water that doesn't come from the taps, which will go a long way to staving off sickness from contaminated tap water in a flood condition.
Powdered or concentrated foods require large amounts of water, so having the option of feeding from a supply of freeze dried food would be the best case scenario in the event of a disaster. Freeze dried foods can be stored in the pantry, like canned foods, and won't spoil if the power goes out. They are cooked before being packaged, so you won't need the stove or oven to heat freeze dried food in order to enjoy it.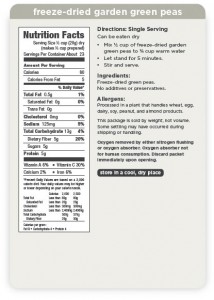 If there are small children present, having a large supply of canned baby food is very important. The children need to be fed and kept as safe as possible. In addition, the smart use of supplies will maintain the health of the adults, who will be needed to tend to the needs of those who can't take care of themselves.
You'll want to be amply prepared during a disaster, and that means making sure you have a good supply of water and food. You'll be much happier if you have freeze dried foods, as food storage is easier and the shelf life is years, not hours.
Guest Post by Agnes, a professional blogger and writer, who runs a personal blog at www.empressofdrac.com.